After all the raves on MUA, I decided to purchase 4
NYC Blushable Creme Sticks
: Big Apple Blush, Berry New Yorker, Wild Berry, and Plaza Pink. I believe Wild Berry is the only one that is limited edition. I also wanted to pink up Pink Flash (a beautiful coral), but I couldn't find it anywhere! I gotta say, I'm very impressed with these blushes! They apply beautifully, and blend well.
Application
: I like to just dot some of the product lightly on my cheeks, and blend it all out with a blush brush, or any large fluffy face brush. To get these to stay, I also set with powder.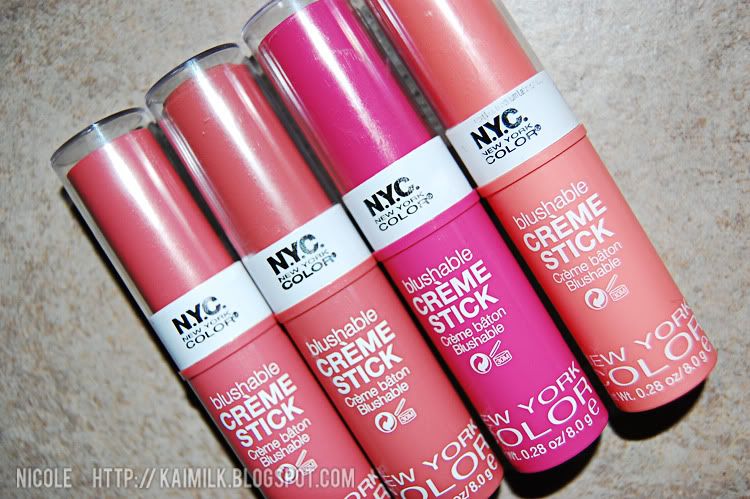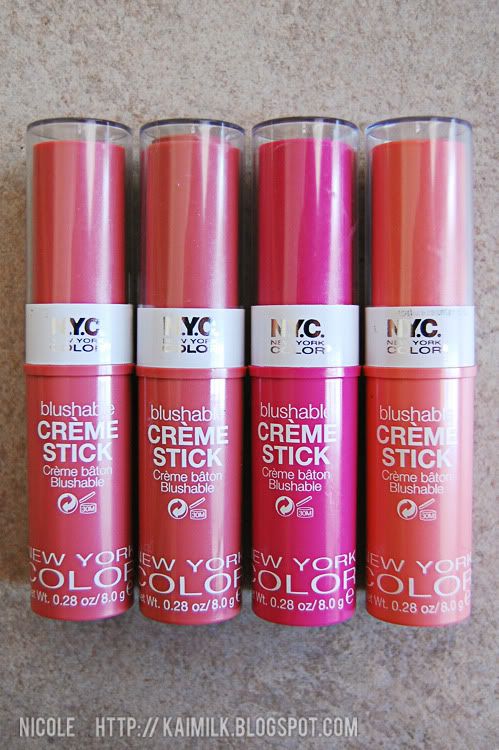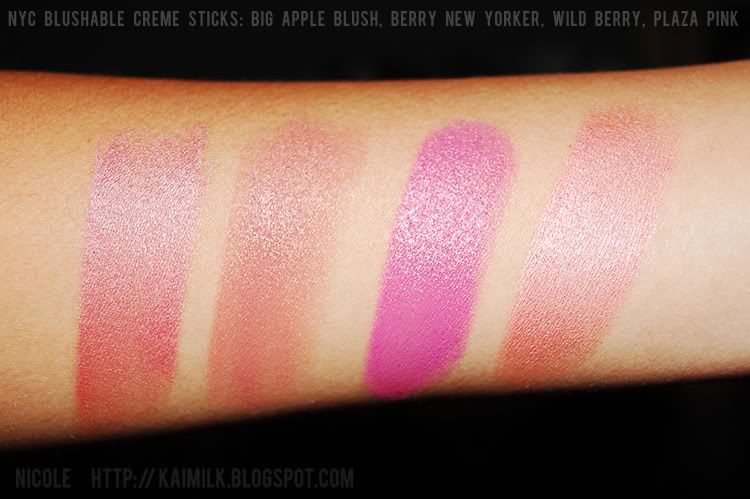 above are the blushable creme sticks, just swiped a couple times. so creamy and pigmented!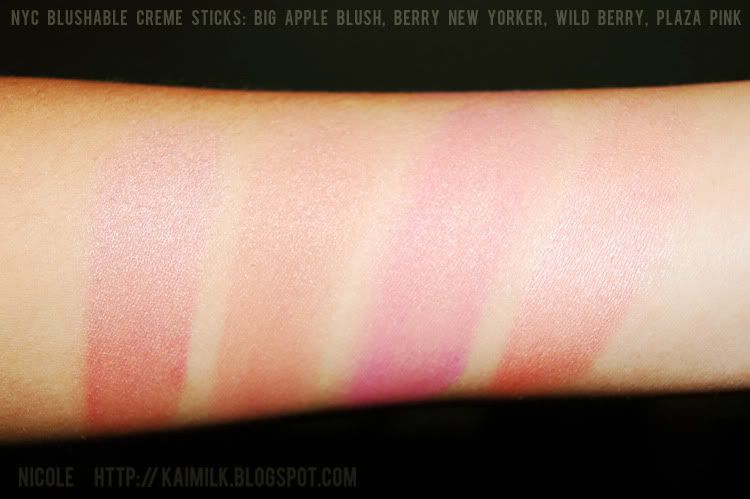 blended out.




Big Apple Blush

- Not sure how to describe the color of this, but it reminds me of a nude-y pink color. It has a bit of frost to it, but nothing too noticeable. I think this would be a perfect everyday blush that would look great for most looks, and just gives a natural flushed look.

Berry New Yorker

- With a misleading name, Berry New Yorker is a matte mauve-y blush. This gives my NC30 skintone a nice and natural glow.

Wild Berry

- Perhaps my favorite one of the bunch, Wild Berry is a matte bright mid-tone pink with blue undertones. I just love bright colors so this blush easily is my favorite. I prefer matte blushes on myself, so I see myself using this one more than the others. Also, the perfect color for summer!

Plaza Pink

- Not very pink at all. This one is more of a frosty peach color. Plaza Pink gives a beautiful sheen when blended out that can give you a great dewy look, imo!

Overall

, I think these blushes are great quality. All are nicely pigmented and blendable. On my oily skin however, I find they don't stay very well and slip off after a couple hours, but these are also great to enhance powder blushes or change the tones and color slightly. Putting powder (either a different blush or even a setting powder) over these will also make them last much longer. When I use these blushes, I apply them right after foundation, then I put my setting powder on top. This will set the product betters and allow it to blend more easily.

I think cream blush fanatics will absolutely love this product. Personally, I would prefer using powder blushes over cream blushes just in general. Powder blushes just seem easier to use in my opinion. However, given the price ($3.99 at most drugstores), I will continue to purchase these in the future!