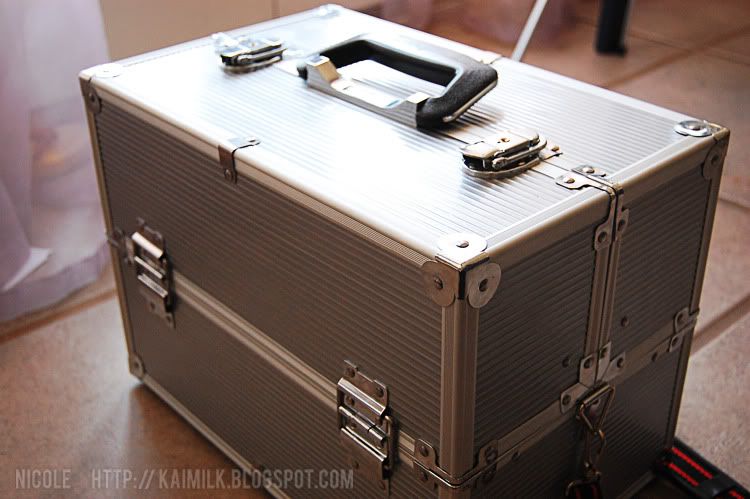 Soooo excited to post about this! After weeks of lemming, I caved in a bought this traincase off of ebay for only $30! When it arrived, I was pleasantly surprised at how big it actually was. I can fit so much stuff in it: all my eyeshadows, nearly all of my blushes, and about 1/3 of my lip products. So glad I picked this over those tiny caboodles traincases!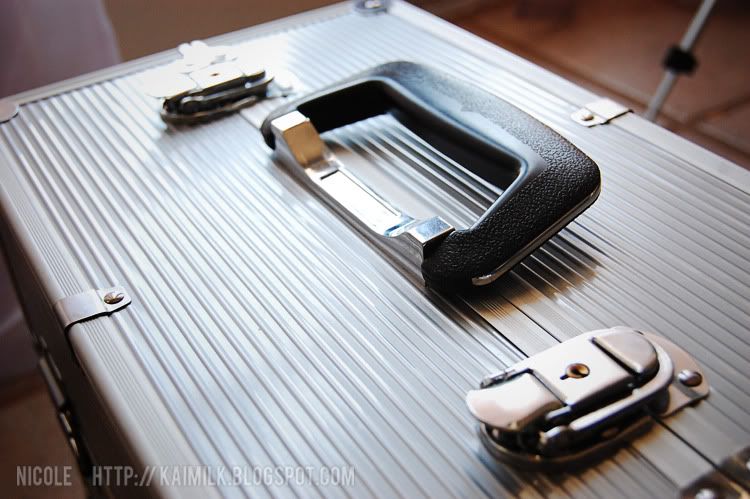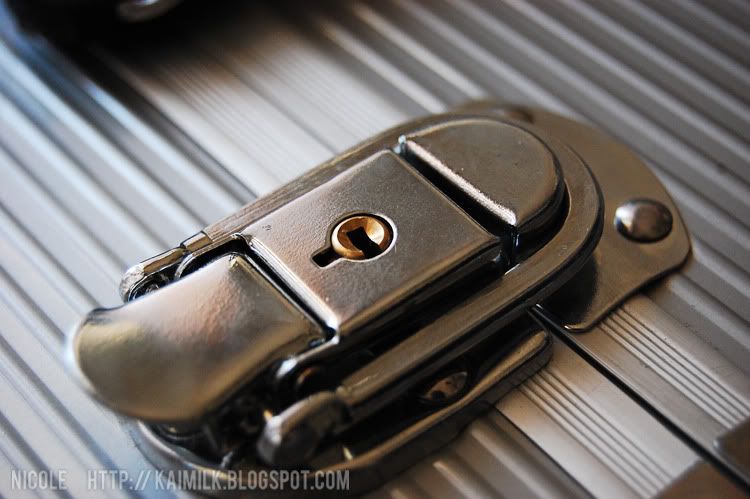 This traincase has two latches with locks that keep everything secured. Probably not the most effective locks, but better than nothing! I tried twisting the lock and such w/out a key, and I couldn't open it (or perhaps I wasn't trying hard enough haha). It also comes with 2 keys and removable shoulder strap (not pictured).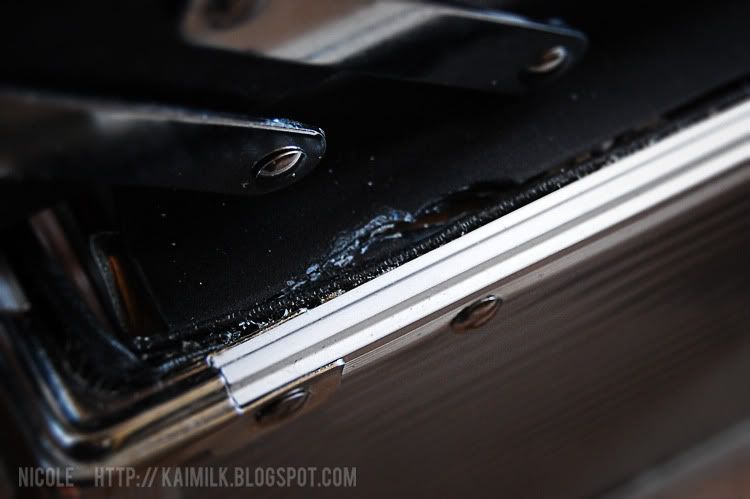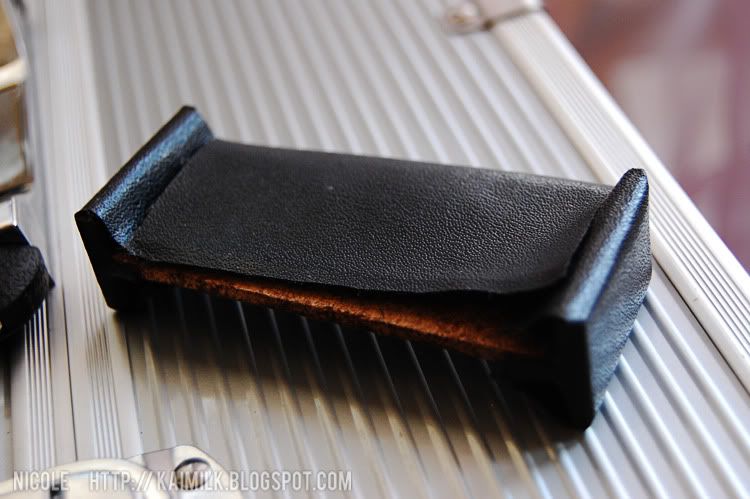 After opening the package and looking at the latches, I began examining the inside. I was disappointed at the dividers, the faux leather layer had already started peeling off, but it was easily fixable with a bit of super glue. A little more difficult to fix was the broken part of the traincase. After playing with the tiers a little bit, I noticed that the base of the tiers kept moving up and down because of there was a damaged part. After a little repairing, everything worked fine.
I don't really mind the minor imperfections. I expected that it wouldn't be the best quality with the price! Also, this ebay seller has a pretty good exchange/refund policy (though buyer does have to pay for shipping), but I didn't want to wait another week for a new traincase to arrive. I'm too impatient!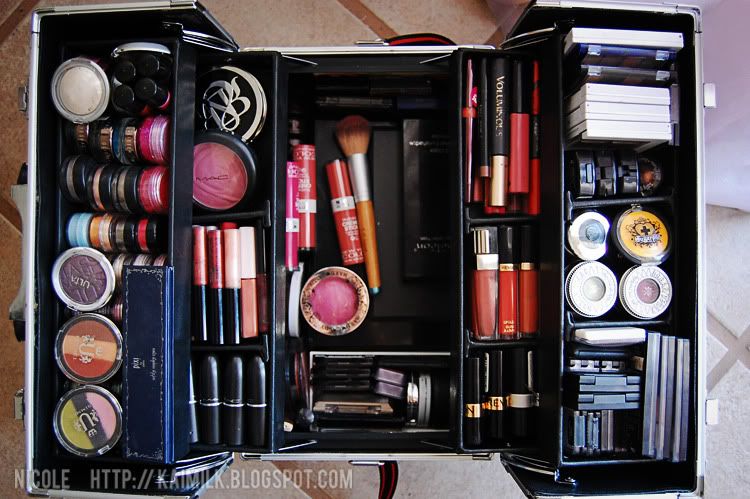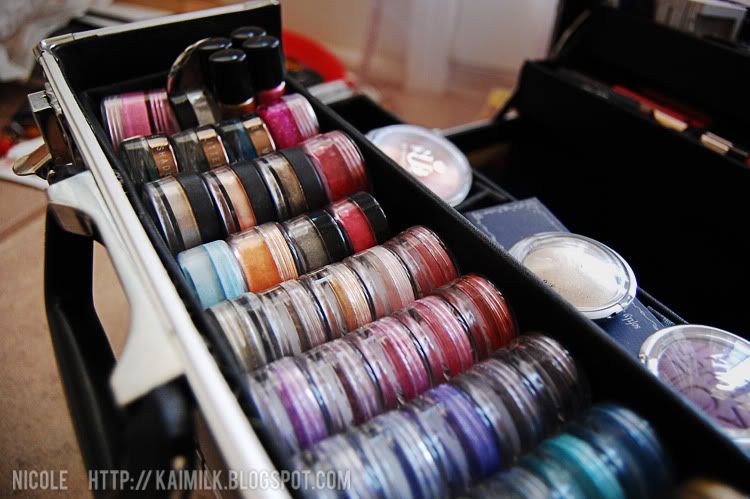 It has a
large storage area below
; I could fit my 88 palette, 120 palette, blushes, several other palettes, and probably even more down there! I could fit Loreal HIP duos and Hard Candy e/s right next to the 88 palette PERFECTLY! Pretty much no moving space, feels secure! It had enough space that I could place my Too Faced palette upright.
The
top sections
, I put most of my eyeshadows. I was able to fit 5 pigment sample per row, and MAC pigment vials could be placed upright w/out any problem with closing. I could also place WnW palettes on their sides, and Sonia Kashuk & Maybelline palettes fit snuggly in the back. 4 Urban Decay shadows also fit comfortably in one row. You can also fit MAC quads by laying them flat (the trays are wide enough), however they are too tall to lay on the side (uhhhhh I make sense right??).
The
bottom trays
, I mostly put lip stuff, but I also have some blushes and misc products in there as well. You could probably have 4 sections per tray that would perfectly fit MAC lipsticks. Pictured, I was able to put 8 lipsticks of both MAC and Revlon. However, squared lipsticks do not fit well (such as the Revlon CB and Maybelline CS). When I tried to stack two layers of the square lipsticks, the traincase would not close properly.
Overall,
I'm satisfied with this traincase. The broken section and unglued dividers don't bother me much, however if anyone does receive this broken, I'm sure the seller would be glad to send you another one. Everything else feels pretty sturdy to me. Although this is inexpensive, this looks very sleek and professional. I also love that customizable dividers were provided, keeps everything so much more organized!
I think this would be a great traincase for someone looking into freelancing, but they don't want to spend too much money on one. Also, this would be perfect for college! I'm definitely going to bring this to my dorm next year! I think this one is especially great for the price, considering the Caboodles traincases are $25-$30 for one perhaps half the size of this one.
Quick Info
-Seller:
quality.to.go
100% feedback
-Price: $30
-Dimensions: 14" x 9" x 10" (according to seller)
-Total Tiers: 4
-Total Dividers: 8
-Shipping: 5 days (ordered on Thursday, arrived on Tuesday)
-Accepts Returns?: yes
Pros
-inexpensive.
-large and roomy. (fits 88/120 palettes, and the trays are a great size - most e/s and lipsticks fit perfectly!)
-looks sleek and professional.
-has locks.
-customizable dividers.
-easy to wipe/sanitize (not felt or cloth!)
-relatively fast shipping.
-pretty good quality for the price.
Cons
-flimsy dividers.
-came damaged.
-tiers feel a little cheap.
-not the most secure locks.
-not the greatest quality. (but you gotta consider the price!)
Despite the imperfections, I'm in love with this traincase!